Dionela FAM1 under sink water filter
Two-stage filtration removes impurities and makes great-tasting water
Product description
Dionela FAM1 under sink water filter
Dionela water filters are a quick and cost-effective solution for improving the quality of water in your household for drinking, preparing beverages, and cooking. This under-counter filter fits neatly out of site under the sink and attaches to a filtered-water faucet. These are purchased separately and are available in a simple form and more elegant form.
The filtration rate of 1.5 liters per minute offers a ready supply of filtered water for immediate use.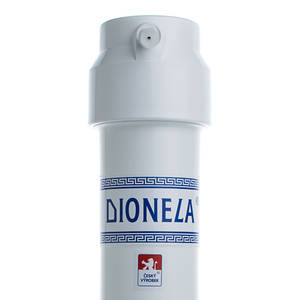 Dionela FAM1 pod linku
FAM1 filtration
The FAM1 filtration system uses a two-stage system to effectively purify your water.  The first stage is a textile-based system which removes physical impurities including dirt, sand, rust, and metal pieces from pipes. The second stage uses bacteriostatically treated granular activated carbon to remove dissolved substances including chlorine, radon, heavy metals, organic substances, detergents, and pesticides. It also improves the taste, clarity, and color of water.
The FAM1 filter is suitable for water with nitrate levels up to 50mg/L. For higher nitrate levels, use the Dionela FDN2 filter. If you also want to reduce water hardness, use the Dionela FTK3.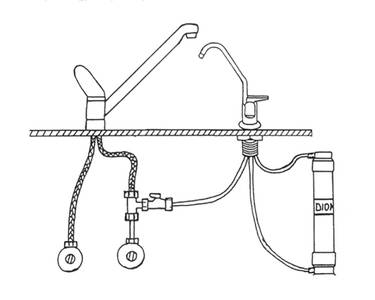 připojení pod linku
Simple hookup
To hook up the Dionela filter, a three-way valve is screwed onto the cold water line. A tube runs to the filtered water tap (to turn on and off the water), a second tube to the filter input, and a third tube from the filter output to the tap for pouring.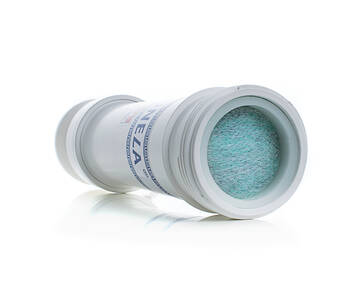 Dionela filtr
Long-life filter
The Dionela can filter up to 38,000 liters and can last up to two years. To save money, the filter can be sent it for replacement. The internal textile and carbon filters are removed and replaced for a fraction of the cost of a new filter.
 
PACKAGE CONTENTS:
FAM1 filter cartridge
Stand with 1/4" hose input
Drain outlet with valve for 1/4" hose
* 3-way cold water valve not included
Any question
to related product?
Ask us now in discussion.
Discussion
Any question
to related product?
Ask us now in discussion.