Extracteur vertical Sana 828 (orange)
Sana's next-generation vertical juicer is here.
Availability
Livraison ŕ partir du 28.8.2019
Product description
Sana EUJ-828 extracteur vertical
Sana franchit une nouvelle étape dans la technologie d'extraction de jus avec le nouvel extracteur vertical 828. Alliant un nouveau design élégant ŕ de nouvelles fonctionnalités ingénieuses, le Sana 828 est l'extracteur vertical le plus perfectionné du marché.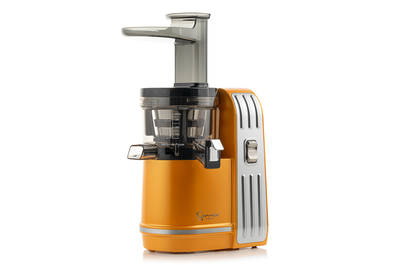 828 orange side
Elegant design that is more than skin deep
Drinking cold-pressed juice is one of the easiest ways to improve your health. But what good is a juicer that is never used because it's too big, too loud, or too difficult to clean? That's why Sana's new 828 juicer is designed from the ground up to be the easiest juicer you've ever used. Quiet, compact, and simple to clean, the Sana 828 moves vertical slow juicing into the next generation. Oh, and it looks pretty nice too.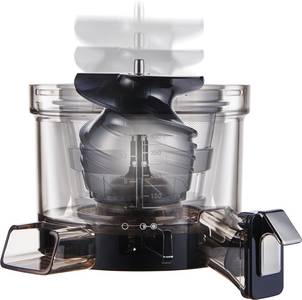 Sana 828 juicing chamber
Next generation vertical juicing technology
The juicing chamber in the Sana 828 has been redesigned to make it the most efficient and easy to use vertical juicer on the market. The pulp control lever lets you adjust the pressure in the juicing chamber, allowing higher yield with harder ingredients like carrots and easier cleaning with softer and stringy produce like pineapples. The new auger has been designed to simply be inserted in the juicing chamber without having to be lined up with the juicing screen. Silicon cleaning blades rotating at a low 17 rpm not only keep the screen clean during operation, but also minimize foaming in the juice. The pulp outlet chute has been made wider with a large opeing in the top to make cleaning easy. Finally, the drive shaft is sealed in the juicing chamber, eliminating any possibility of juice leaking onto the motor base.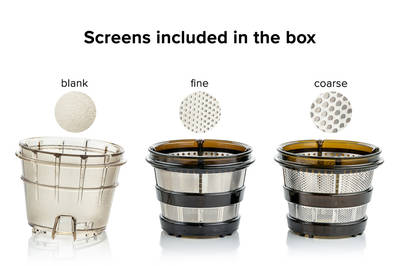 screens
Includes three screens for the best juicing results
Most vertical juicers come only with one juicing screen. Sana's new 828 triples that with three screens. The standard fine stainless steel screen is designed to get the maximum yield and clearest juice out of most produce. Also included is a coarse stainless steel juicing screen with larger holes which allow softer and fibrous produce like pineapple, firm peaches, and berries to be juiced - something most juicers can't do. Finally, an ice cream screen is included for making frozen treats like fruit sorbets and banana-berry ice cream.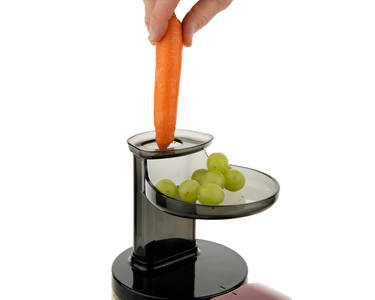 Sana 828 feeding tube
Dual hopper for easy feeding
The new dual hopper has been designed with convenience in mind. The top feed works great for most produce such as carrots, celery, apples, and more. The wide side slot has an integrated tray which is helpful for such things as leafy greens, berries, and cut vegetables. With dual magnetic safety sensors, the hopper can be mounted for right or left handed operation.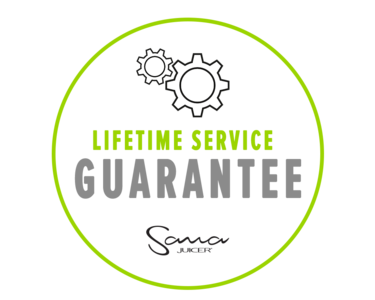 lifetime service guarantee
Lifetime service guarantee
Manufactured from premium materials in a high-tech South Korean facility, the Sana 828 is designed for a lifetime of service. That's why we back it up with a lifetime service guarantee – all service work for the life of your Sana 828 is free of charge. If you have any problems with it after the 5/10 year warranty period is over, we will service it free of charge. You only pay for shipping to our service center and any parts needed. We will pay for the labor and shipping back to you.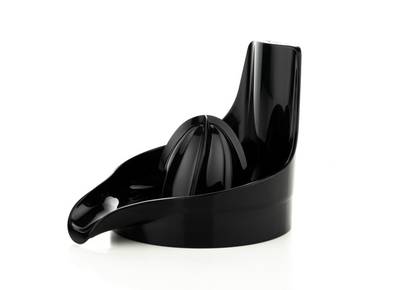 Sana 828 citrus attaachment 2
Optional citrus attachment
The Sana 828 does a great job on all citrus. But if you want your orange juice fast without peeling, the optional citrus juicer attachment fits on the motor base to turn your Sana EUJ-828 into a powerful citrus juicer. Just cut any citrus in half and press it against the rotating auger - no peeling required. The juice pours out the flow spout right into your glass. Best of all, cleanup is simple - just rinse the attachment under running water.
Principales caractéristiques
Cuve d'extraction nouvelle génération avec bras de pression scellé
Extraction douce ŕ 43 tr/min
Motor AC : peu de bruit, peu de vibrations
Levier de commande réglable optimisé pour différents ingrédients
Quatre brosses tournant ŕ 17 tr min gardent le tamis propre
Un tamis fin pour faire un jus trčs clair ŕ partir d'une grande variété de produits
Un tamis ŕ gros trous pour les fruits mous ou des jus avec plus de pulpe
Filtre ŕ glaces pour des délices glacés naturels
Sortie de pulpe extra-large pour un nettoyage facilité
Fabriqué en Corée du Sud
Parameters
Manufacturer

Color

Orange
Any question
to related product?
Ask us now in discussion.
Discussion
Any question
to related product?
Ask us now in discussion.