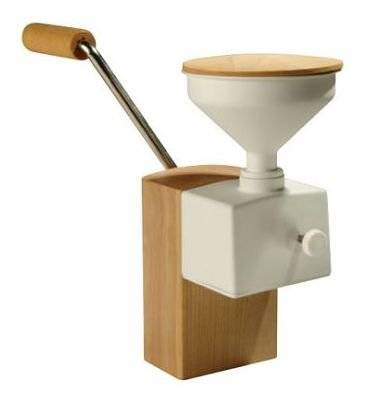 Komo Flocino grain flaker
Compact basic flaker for everyday preparation of fresh flakes for your healthy breakfast.
Product description
Flocino Grain Flaker (natural)
It´s easy to prepare flakes from any grains, except corn, even moist grains like f.e. wheat sprouts (please mind to let these trickle one after the other) with Flocino flaker. Due to the steel rollers, oily seeds like poppy seeds, linseed, sunflower seeds, pumpkin seeds can also be flaked, as well as spices like anise, fennel, cumin, cinnamon, mustard seeds, cardamom, coriander etc. Even chopped nuts, dried herbs, lentils and little pieces of dried fruits, f.e. raisins mixed with grains, can be flaked.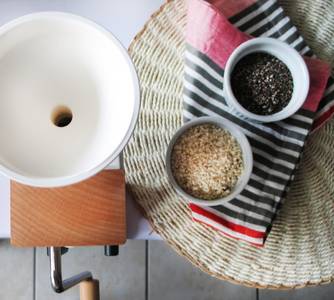 flocino oat flaker
Quick preparation
You can prepare a bowl of fresh oatmeal in 20 seconds!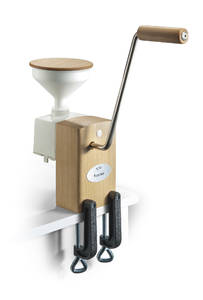 Komo Flocino flocker
Quality beech wood
The Flocino is made from solid domestic beech wood, treated with organic linseed oil.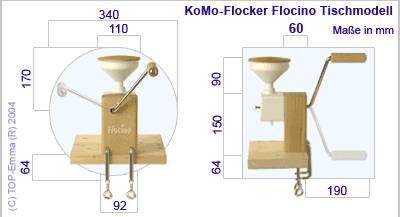 Komo Flocino flocker
Flaking mechanism
Two stainless steel rollers are nickel free - it guarantees healthy nutrition. The Komo Flocino flocker has been developed in consideration of ecological principles. No gear drive is necessary.
Parameters
Manufacturer

Color

Naturel
Any question
to related product?
Ask us now in discussion.
Discussion
Any question
to related product?
Ask us now in discussion.