Catalog number: KJEVO820R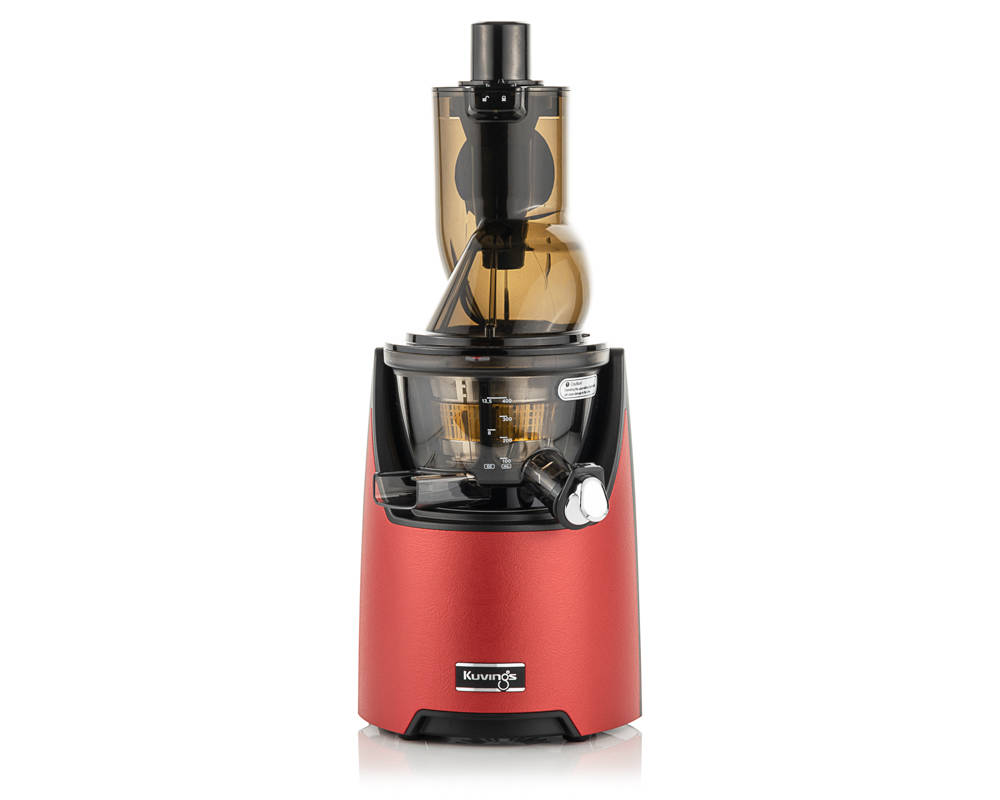 Kuvings EVO820 Evolution Juicer (red)
The new flagship wide-mouth vertical from Kuvings.
Availability
Livraison ŕ partir du 28.8.2019
Product description
Kuvings Evolution EVO820
The third generation wide-mouth Extracteur verticla ŕ lente vitesse from Kuvings - the inventor of the wide-mouth feeding tube. The widest feeding tube available on a consumer juicer, premium textured finish, and newly-designed juicing assembly are among the highlights.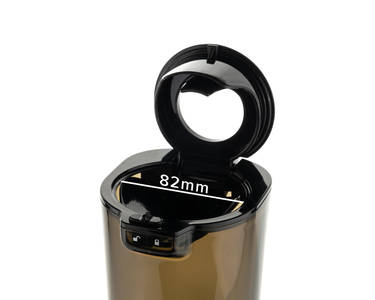 Kuvings EVO820 - feeding tube
The widest feeding tube available
Using a flip-top "trap door" feeding tube, Kuvings has eliminated the safety blade found in previous models. This makes it easier to feed large produce like whole apples as they simply roll into the juicing bowt instead of having to be pushed through the safety blade. The opening is also significantly larger - 82mm versus 76mm in their C9500.  The flip top also has a smaller circular opening in it, so you can feed longer items like carrots or celery directly into it without having to cut them into lengths suitable for the trap door.  Kuvings 240 watt motor is the most powerful in its class, and has no problem with even hard produce like root vegetables.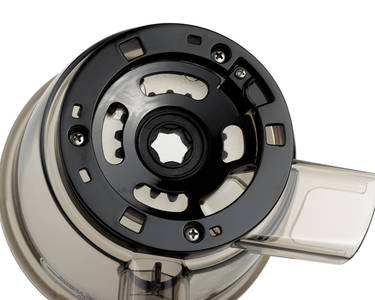 drum bottom template pic
An evolution in juicing
The name "Evolution" demonstrates Kuving's thinking behind this model. It is an evolution of their best-selling C9500 juicer, with a series of small improvements that add up to make it the best wide-mouth juicer on the market. For example, the juicing chamber is noticeably more solid and durable, with stronger materials and a new four-point connection to the motor base. This creates more stability which is needed when juicing large and firm produce like carrots and beets. The pulp outlet has been made larger with a big cutout in the top for easier cleaning. And all the things that made the C9500 so successful, like the juice tap and the integrated cleaning system, have been carried forward into the Evolution.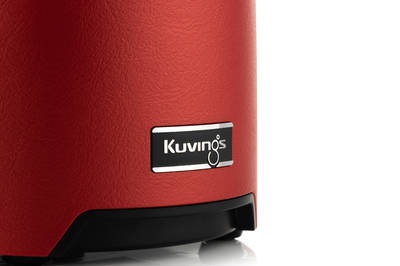 Kuvings EVO820 - red - leather detail
New textured design
Kuvings has made a design worthy of being called premium in the new Evolution. Rather than having a shiny plastic finish, the Evolution is clad in a textured leather-like finish which wraps around the front of the juicer. The jucing bowl sits in the juicer firmly, and the symetrical design creates a very balanced look. Weighing in at 7.1 kg, the Evolution is impressively hefty and conveys a very solid feel. Part of this is due to the class-leading 240 watt brushless motor which is carried over from the C9500, which is even quieter here due to the more sound insulation.
Principales caractéristiques
Double trémie de 82 mm - le tube d'alimentation le plus large pour un extracteur domestique
Nouvelle cuve d'extraction renforcée pour une durabilité exceptionnelle
Sortie de pulpe extra-large pour un nettoyage facile
Extraction encore plus silencieuse
Moteur puissant de 240-wattss / 60 tr/min
Pression ŕ froid pour limiter l'oxydation et la formation de mousse
Clapet intégré pour mélange de jus et nettoyage facile
Sans bisphénol A
Brosses de nettoyage adaptées incluses
Fabriqué en Corée du Sud
Any question
to related product?
Ask us now in discussion.
Discussion
Any question
to related product?
Ask us now in discussion.